space150 Named Agency of Record for Forever21; Launches Groundbreaking Digital Content for Times Square Real-Time Billboard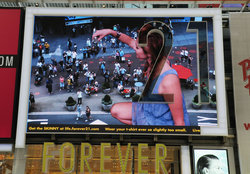 space150, the digital communications firm, has been selected by youth fashion leader Forever21 as agency of record. The firm's first project out of the gate – masterminding groundbreaking real-time digital content for a giant billboard above the brand's flagship new store in Times Square, New York. Future assignments will follow.
"Forever21 just gets the pace and need for constant reinvention that characterizes the digital space," says space150 founder and CEO Billy Jurewicz. "So much so that this content is going to make a real impact with consumers. It's going to be like the first time you saw Google Maps and thought 'wow, how do they do that?'"
space150 is launching a complex program of revolving creative content for the digital billboard, which will go live June 25, when Forever21 officially takes over both the physical retail spot and historic billboard location of one of the most iconic brands in Times Square history: Virgin. The program uses computer vision technology – never employed in Times Square before – to allow larger than life onscreen Forever21 models to interact with passers by on the streets below. Models snap Polaroids of shoppers outside the store and instantly show the photo onscreen or do things such as picking people up and tucking them under their hat or dropping them into a Forever21 shopping bag.
"space150 understands who we are as a brand and what the savvy Forever 21 customer expects from us," says Linda Chang, Marketing Director, Forever 21. "We've created a fun and innovative program that engages our customers in a way that reflects our image. We're pleased to launch this new custom technology on our Times Square billboard."
Known for expertise in blending creative content with hands-on technological development, space150 is using a Prosilica camera, normally used only in high-tech surveillance, to capture action on the streets and translate it to real-time onscreen content. The camera is mounted to the top of the 61-feet high digital billboard and trained on passers by and consumers on the street below. Newly emerging computer vision technology first identifies people watching the billboard below and then, in near real-time, builds a composite image of them for use in the simulation. This technology also allows the computer to differentiate people form inanimate objects, or to pick out and prioritize Forever21 shoppers with their distinctive yellow store bags.
"It's an over-used expression, but this really is cutting edge technology," says James Squires, Director Technology, space150. "Computer vision is an emerging discipline that allows computers to mimic biological vision in as close to real time as possible. It's very new and it's going to be incredibly effective when Times Square shoppers find themselves being picked up by giant models."
space150 has also installed a series of thermal imaging cameras in the new store's entrance canopy that trigger motion-operated "paparazzi" flashbulbs. When shoppers walk into the store, the cameras detect their heat source and get the star treatment. Other parts of the comprehensive digital content program for Forever21 include "Love Tweets", a live, on-screen feed of Forever21 fans' tweets whenever they mention the brand's name and love in the same 140-character tweet.
"This is an exciting launch for so many reasons," adds Billy Jurewicz. "We're helping to reinvent perhaps the most well known brand billboard in Times Square history, seen in so many classic movies for decades. But just as importantly, we're using cutting-edge technology for the update that's really going to grab people's attention in a whole new way – quite literally, as they get picked from the street."
The screen goes live June 25 at 10.00am EST.
About Forever21 (forever21.com)
Forever21, the youth fashion leader, operates more than 450 stores under the Forever 21, XXI Forever, ForLove 21, and Heritage 1981 banners in the US, Canada, and a dozen Asian countries, as well as an online e-commerce site. The chain, which helped to pioneer fast fashion, offers inexpensive and chic apparel and accessories for women, men, teens, and kids. It also carries women's footwear, lingerie, and cosmetics.